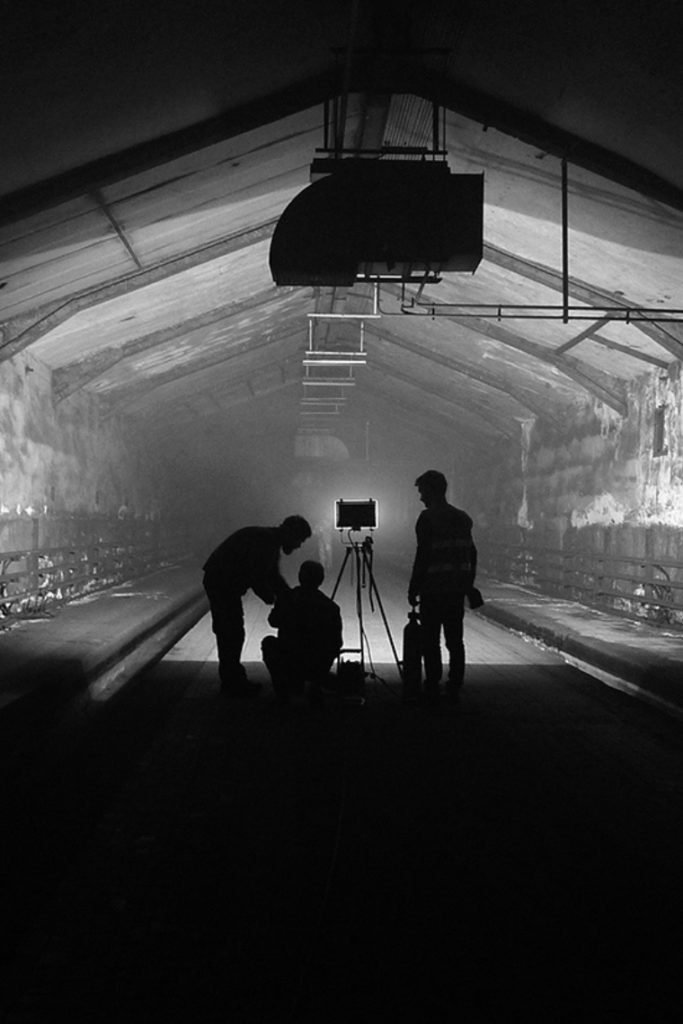 THE RESEARCH COOPERATIVE
The Research Cooperative is the platform that brings all ESACM research activities under one roof. It is based on the founding principle to create an essential and productive relationship between individuals' contributions in each of the research areas covered: sharing ideas, tools and methods.
The Research Cooperative brings together research lecturers, Masters students, researchers involved in research programmes, and researchers contracted to ESACM for between 1 to 3 years, whether or not they are enrolled in postgraduate studies (DSRA).
ART RESEARCH
A college is, by definition, a research environment because all teaching is based around the student project. This involves individual research that has a collective dimension of interactions and exchanges with the whole teaching team and other students. The requirement to be founded on research, which is a prerequisite set by the Ministry of Postgraduate Education and Research to award the DNSEP Masters, must operate from a premise to develop practical and theoretical reflection on subjects specific to the school that are pursued collectively. For us, this is not about using a post-Masters degree to enforce our academic model or create a postgraduate diploma, but to create methods that are particular to our art research through art.
Researchers, research programmes, postgraduate courses, study days, exhibitions and all the unique methods developed, are brought together in a "Cooperative". A dedicated space within the college that unites everyone involved in research at any given moment: researchers contracted for one to three years, research programme members, associate researchers… each individual working on his or her research project while implementing shared, collective methods.
As this concerns art research – as opposed to researching art – it is based on the fact that all lecturers are artists, first and foremost, practising theoreticians: that is, researchers.
Much like all research, art research is nourished by its own doubts, which gives it a forward-looking quality. In particular, it is the role of the community of Cooperative researchers to support or encourage this alienation by forcing the research subject, as well as the way it is applied, "into crisis". The Cooperative has as its purpose this critical interplay between individual research and a collective dynamic, by sharing tips, questions, doubts and methods that may support the development of a common ground.
Research at ESACM operates in different ways and on different levels: it increases the number of research areas and approaches; encourages flow and exchange between the school and external agents. It involves long (research programmes, the Cooperative) and short timeframes (research trips, exhibitions, seminars, study days); it links practise and theory to elicit mutual benefit; it regenerates the school's activities from within while also supporting the school to be outward looking. Above all, it enriches school life by always providing an intense shared experience.
OPERATION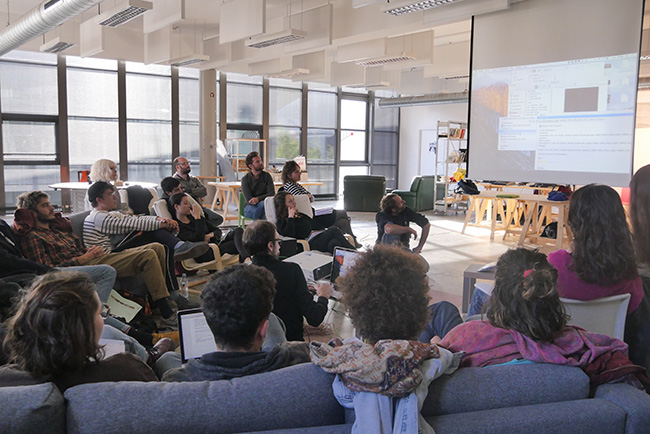 The Research Cooperative is the platform that brings all ESACM research activities under one roof. Founded in 2012, it offers an essential research tool, and its very name points to some of its qualities and features: rather than "laboratory" or "agency" (the latter implying the subjugation of research to a requirement to create immediate profit), we preferred the term "cooperative", which instantly translates and conveys the essential and productive link between individual contributions in each of the research areas covered, as well as the collective, participative and egalitarian dimension associated with the principle of a "cooperative". The founding principle behind this cooperative is very much the sharing of thoughts, tools and methods.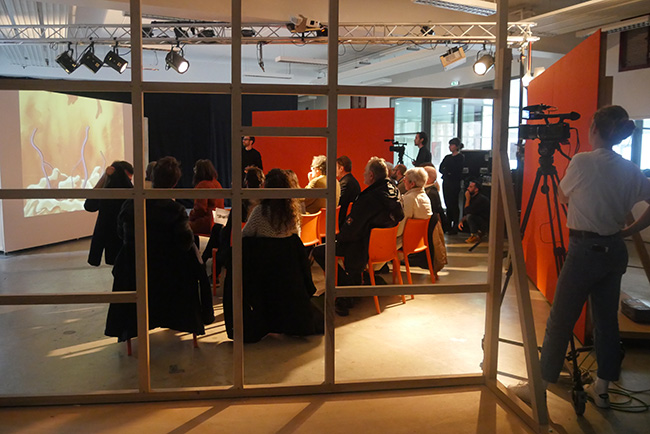 The cooperative is made up of ESACM lecturers, associate researchers and researchers recruited through calls for candidacy.
Within ESACM, above all, the Research Cooperative aims to provide a favourable environment for the pursuit and development of individual research for all our researchers, who in return form the bedrock for the creation of either converging or diverging shared perspectives.
Each researcher plays a part in this cooperative and applies to work in it with the whole community. The Cooperative is both a space in which those involved in research organise their projects, and in which research is shared and discussed, and where common threads with all or some may emerge. Beyond the existing programmes, projects and seminars, researchers may develop proposals in a range of formats for anyone involved in the school, including: film projections, research seminars, experiences relating to a shared method, issues tackled during learning and with students, etc.
Currently, researchers commit to at least six working days per month at Clermont-Ferrand. During these six days, group time is spent sharing content as well as the Research Cooperative's collective thought processes. Researchers must attend, as these sharing sessions are what enable the Research Cooperative's collaborative work and form the basis of its organisational independence.
Over the course of the year, researchers present and share issues faced in their research with the school community at times and using methods specific to each individual.
In agreement with the Cooperative, a researcher has the option to:
Issue invitations through ESACM.
Join existing research groups.
Create a group, potentially with other researchers, such as Crash, which was founded in 2019-2020.
Go on trips and journeys arranged through ESACM, particularly to take part in research programmes.
Request financing for forms of rendition when these contribute towards extending School research.
Take part in Research Cooperative publishing activities.
The research period runs from September to June, inclusive.
An agreement is signed with each researcher at the beginning of the year and involves the following conditions of access:
Access to the Research Cooperative platform (around 100 m2 of shared work space) and school premises (workshops, technical services, seminar halls, exhibition rooms, library, etc.), as well as the school's human and technical resources to carry out his/her project or joint projects with other researchers.
A 9,000€ research grant disbursed either in two tranches or monthly.
Payment by ESACM of one trip per month up to a maximum cost of 120€. It is not possible to accrue or carry forward the cost of trips.
The school provides accommodation in Clermont-Ferrand, which is shared with other researchers.
DSRA
Deliberately transdisciplinary, the postgraduate programme is geared to young graduate artists and theoreticians (Masters or Masters level) with no preference for discipline, medium or practise, who are fully committed to research and wish to initiate or pursue a research project working on topics, projects or research programmes carried out by teams at ESACM.
This postgraduate programme involves 3 years of research within the Research Cooperative at the end of which the researcher may move on to DSRA (postgraduate diploma in art research).
The DSRA is a school diploma governed by a specific agreement. It benefits from the collegiate support of the Cooperative. It is founded on presentation opportunities, invites and exchanges connected to ongoing research. The DSRA makes it possible to formalise and make public research carried out during the three years. This may take the form of one or more opportunities to present work. Its form is tailored to each researcher, depending on the type of research, and offers the opportunity to enjoy exchanges with those invited to an event.
At the start, the researcher applies for an initial research year at the Cooperative. She or he may be able to attend and work on a research programme or project, create research, and work on his or her own particular project.
At the end of the first year, the researcher will be able to:
Enrol on a postgraduate programme and a DSRA.
Carry out his/her research with a view to receiving a diploma.
Finalise his/her research at ESACM.
In all instances, these decisions are made in agreement with the Cooperative and the research commission. (Decisions taken within the Cooperative are enacted and formalised by a research commission drawn from the Cooperative, and acts as the interface with the school's administration and management).