→ Candidates seeking admission to year 1 must enrol using the Parcoursup plateform before March 9th 2023, and then upload the eligibility application file on a dedicated server before April 6th 2023.  The exam day will occur on May 2nd or 3rd or 4th, 2023. + More informations.
→ Candidates seeking admission to other academic years must submit their application using the campusart.org website, before March 31rst 2023. + More information.
ADMISSION IN FIRST YEAR
Requirements

Candidates seeking admission to year 1 must enrol using the Parcoursup plateform before March 9th 2023, and then send the eligibility evaluation file before April 6th 2023. The exam will take place on May 2nd or 3rd or 4th 2023.
Educational qualifications
Candidates must have obtained a baccalaureate or a recognised equivalent qualication. Pupils in their final year of high school may enrol for the entrance examination but will only be finally admitted after obtaining their baccalaureate.
Exemption
The Director of the School may exceptionally consider applications from candidates who have not obtained the baccalaureate but who can demonstrate professional experience or proven theoretical and practical skills.
Foreign applicants
Foreign applicants may submit their applications :
online using the Parcoursup plateform
OR to the School directly (only for candidates without the baccalaureate)
Application limits
Candidates who have failed the entrance examination twice will not be allowed to take the examination a third time.
Exam
+ Find more information on the eligibility evaluation file and on the exam on the « admission en première année » page.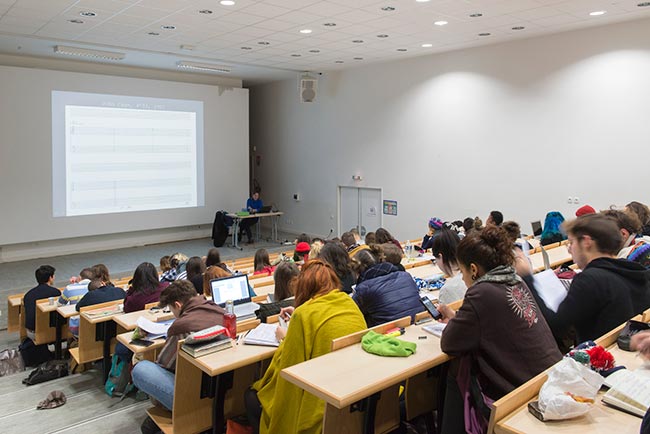 ADMISSION IN 2nd, 3rd, OR 4th YEAR
Requirements
Candidates seeking admission after having begun their studies in other art schools must meet one of the following requirements:
Have attended a school of art or architecture approved by the French Ministry of Culture and Communication.
Hold a qualification in plastic arts or have attended a course in plastic arts in an establishment under the authority of the French Ministry of Education, such as a higher technical certificate (BTS), university first degree (licence) or diploma from a technological university (DUT) or a foreign university.
For admission to semesters 3, 5 and 7, candidates must have obtained 60, 120 and 240 ECTS credits, respectively. Qualifications obtained outside the EU and EEC will be examined to ensure they match French academic qualifications.
Foreign candidates: Foreign candidates may send their applications directly to the School or via the campusart.org website. They must attest a B2 level of knowledge in French language (TCF).
Deadline: All candidates must submit their application form (below) together with their portfolio of original work before March 31rst, 2023. The session of the local degree assessment committee will occur on May 15th and 16th, 2023.
Application fees: Before taking the examinations, all applicants must pay the fees covering the costs of assessment of their qualifications by the Equivalence Committee. The amount is fixed by the Governing Council of the School and figures on the application form. Application fees are not refundable. Applicants resident in the Clermont Auvergne Métropole area are exempted from paying application fees.
The equivallence committee
+ Find more informations on the equivalence committee on the « admission en cours de cursus » page
' . ' ' . ' ' . ' ' . ' ' . ' ' . ' ' . ' ' . ' ' . ' ' . ' ' . ' ' . ' ' . ' ' . ' ' . ' ' . ' ' . ' ' . ' ' . ' ' . ' ' . ' ' . ' ' . ' ' . ' ' . ' ' . ' ' . ' ' . ' ' . ' ' . ' ' . ' ' . ' ' . ' ' . ' ' . ' ' . ' ' . ' ' . ' ' . ' ' . ' ' . ' ' . ' ' . ' ' . ' ' . ' ' . ' ' . ' ' . ' ' . ' ' . ' ' . ' ' . ' ' . ' ' . ' ' . ' ' . ' ' . ' ' . ' ' . ' ' . ' ' . ' ' . ' ' . ' ' . ' ' . ' ' . ' ' . ' ' . ' ' . ' ' . ' ' . ' ' . ' ' . ' ' . ' ' . ' ' . ' ' . ' ' . ' ' . ' ' . ' ' . ' ' . ' ' . ' ' . ' ' . ' ' . ' ' . ' ' . ' ' . ' ' . ' ' . ' ' . ' ' . ' ' . ' ' . ' ' . ' ' . ' ' . ' ' . ' ' . ' ' . ' ' . ' ' . ' ' . ' ' . ' ' . ' ' . ' ' . ' ' . ' ' . ' ' . ' ' . ' ' . ' ' . ' ' . ' ' . ' ' . ' ' . ' ' . ' ' . ' ' . ' ' . ' ' . ' ' . ' ' . ' ' . ' ' . ' ' . ' ' . ' ' . ' ' . ' ' . ' ' . ' ' . ' ' . ' ' . ' ' . ' ' . ' ' . ' ' . ' ' . ' ' . ' ' . ' ' . ' ' . ' ' . ' ' . ' ' . ' ' . ' ' . ' ' . ' ' . ' ' . ' ' . ' ' . ' ' . ' ' . ' ' . ' ' . ' ' . ' ' . ' ' . ' ' . ' ' . ' ' . ' ' . ' ' . ' ' . ' ' . ' ' . ' ' . ' ' . ' ' . ' ' . ' ' . ' ' . ' ' . ' ' . ' ' . ' ' . ' ' . ' ' . ' ' . ' ' . ' ' . ' ' . ' ' . ' ' . ' ' . ' ' . ' ' . ' ' . ' ' . ' ' . ' ' . ' ' . ' ' . ' ' . ' ' . ' ' . ' ' . ' ' . ' ' . ' ' . ' ' . ' ' . ' ' . ' ' . ' ' . ' ' . ' ' . ' ' . ' ' . ' ' . ' ' . ' ' . ' ' . ' ' . ' ' . ' ' . ' ' . ' ' . ' ' . ' ' . ' ' . ' ' . ' ' . ' ' . ' ' . ' ' . ' ' . ' ' . ' ' . ' ' . ' ' . ' ' . ' ' . ' ' . ' ' . ' ' . ' ' . ' ' . ' ' . ' ' . ' ' . ' ' . ' ' . ' ' . ' ' . ' ' . ' ' . ' ' . ' ' . ' ' . ' ' . ' ' . ' ' . ' ' . ' ' . ' ' . ' ' . ' ' . ' ' . ' ' . ' ' . ' ' . ' ' . ' ' . ' ' . ' ' . ' ' . ' ' . ' ' . ' ' . ' ' . ' ' . ' ' . ' ' . ' ' . ' ' . '